How to power wash concrete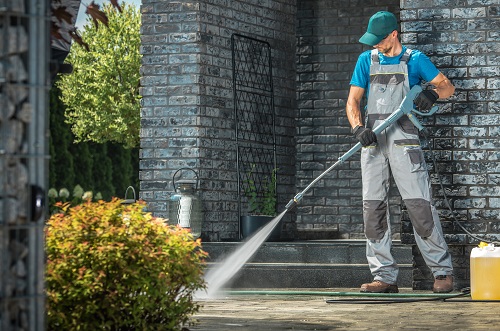 Pressure washing is the quickest and most effective way to clean concrete, especially if you know what you're doing. Here are the best practices for cleaning concrete with a pressure washer.
Use hot water
Hot water pressure washers clean more efficiently than cold water units. Plus, most pressure washer detergents work better with hot water. Hotsy pressure washers can heat water up to 140 degrees Fahrenheit (60 degrees Celsius) warmer than the incoming water temperature.
Opt for high pressure
To get the job done right, you need a pressure washer rated at least 3,000 PSI with a flow rate of at least four gallons per minute (GPM). Hotsy Water Blast can provide you with an electric, gasoline or diesel pressure washer that delivers sufficient power.
Choose a good detergent
A quality detergent designed for pressure washers can help you cut through the most tenacious dirt, grease and grime. Hotsy carries a large selection of detergents that can be added directly to a pressure washer's water stream. A power washer cement cleaner such as Hotsy Floor Wash or Ripper I is an ideal option.
Select the right nozzle
The appropriate nozzle for the job will depend on how dirty and strong the concrete is. For example, power washing stained concrete requires some extra force. High-degree nozzles, such as the 40-degree white nozzle, have the widest spray range. On the other hand, low-degree nozzles are more effective at stripping away dirt and grime.
To ensure that you don't damage the surface you're spraying, it's better to start with a high-degree nozzle and test a small patch when you switch to a 15-degree or zero-degree nozzle.
Attach a rotary nozzle
Alternatively, you can use a rotary nozzle such as the Hotsy Turbo Nozzle to get the best of both worlds. This option delivers intense cleaning power and has a wide spray range, thanks to its rotating jet and high-pressure stream.
Consider a flat surface cleaner
If you're cleaning a large concrete floor or sidewalk, a flat surface cleaner will prove highly efficient. This device is essentially a pressure washer on wheels. It's shaped like a lawnmower with the nozzles mounted beneath metal housing. A similar, less heavy-duty option is the Hotsy Water Broom.
Concrete cleaning solutions in Western Canada
Hotsy Water Blast has everything you need to efficiently and effectively wash concrete, including a complete selection of Hotsy pressure washers, detergents, and pressure washer attachments and accessories. Contact us today for more information about our products.