When industry needs a superior, heavy-duty cleaning system, it invariably turns to Hotsy Water Blast

When industry needs a superior, heavy-duty cleaning system, it invariably turns to Hotsy Water Blast.
Hotsy Water Blast offers a full line of agricultural, industrial and commercial pressure washers, plus automatic parts washers and dip tanks, water recycling equipment, and a wide variety of biodegradable detergents. The company has over 100 hot and cold water pressure-washer models, both electrical and gasoline powered, and is viewed as having the very best equipment available for agricultural and industrial cleaning needs. Water heating is accomplished with a choice of fuel oil, diesel, natural gas or electricity.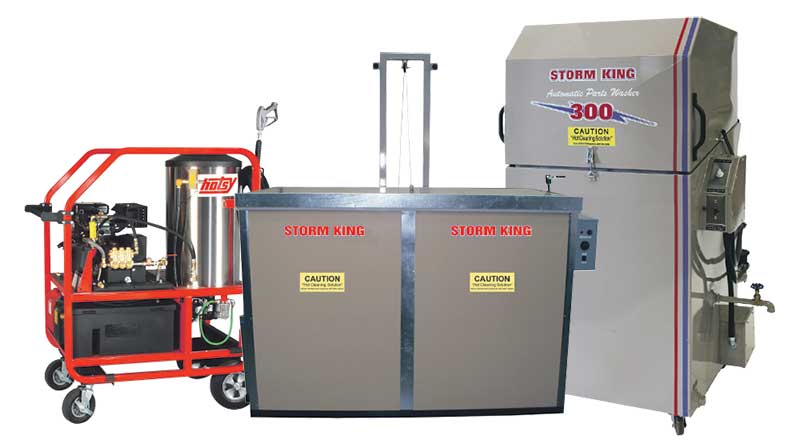 Hotsy came to Canada in 1973 when Water Blast Manufacturing in Edmonton became an authorized dealer. While its longevity and product superiority speaks for itself, an important factor in the company's success is Hotsy Water Blast's customer support and services.
Hotsy sales people don't just sell the product and then walk away after the sale is complete. "We are genuinely interested in developing long-term relationships with our customers," says Ray Moher, who has been president of the company since 1973. "We guide our customers through the purchase process to ensure the proper system is matched to their specific cleaning environment and needs. And then we provide on-site training in the proper use of the equipment."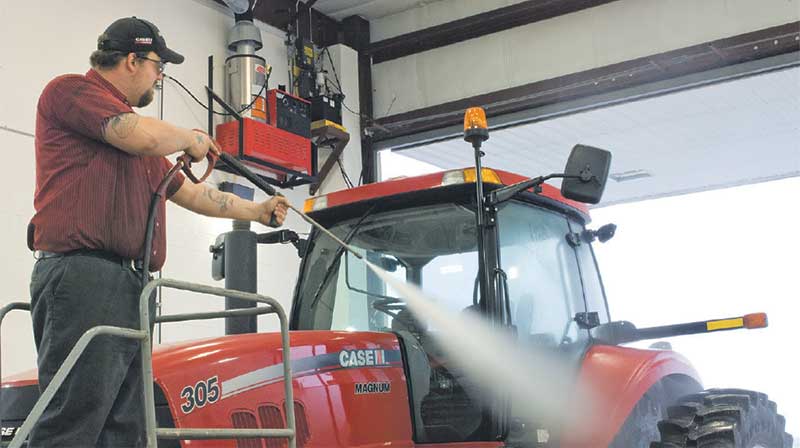 Many customers come to Hotsy frustrated by the inefficiency of cold water washers. Hotsy pressure washers supply a continuous supply of hot water with plenty of pressure. The equipment is strong, powerful and reliable, whether it's being used to clean farm machinery; do heavy-duty cleaning in the gas, oil or mining industries, remove graffiti from buildings; clean away caked-on mud, dirt, ice or snow from your fleet of vehicles, or wash your motorhome.
Hotsy has cleaning system consultants and technicians on staff who guide the client through the hot water learning curve and provide training in the use of the equipment. This results in increased productivity, maximized up-time, and better return on investment for the customer.
Another plus is the huge inventory of replacement parts Hotsy Water Blast keeps in stock.
"When you combine heat, water pressure and power, the potential is there to need servicing," Moher says. "We address this by keeping an extensive inventory of ten thousand critical parts available and on hand. As well, we stock a wide variety of detergents."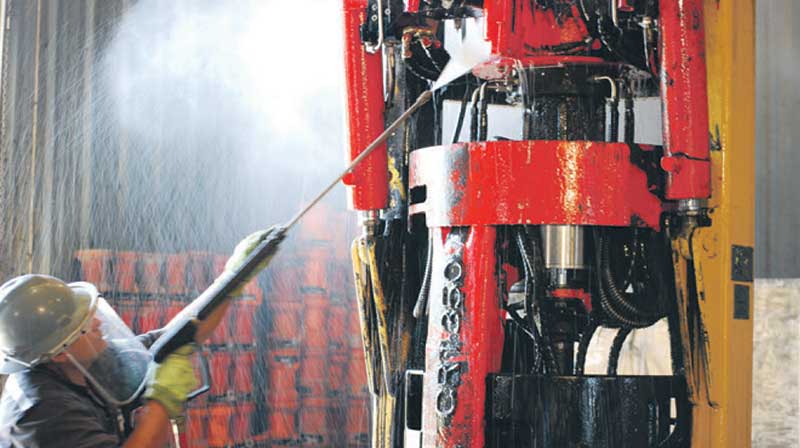 Water Blast is one of the largest distributors of industrial pressure washers in North America and manufactures truck and car washing systems, both portable and freestanding coin-operated drive-through structures. The company can design to specification, and all custom Water Blast equipment is CSA approved.
Water Blast also manufactures its own line of pressure washers, Storm King automatic parts washers, and Cascade wash-water recycle systems. Here, too, the equipment can be custom designed and built to provide the customer with an end-to-end cleaning solution.
The company offers a full line of top-loading and front-loading Storm King parts washers, as well as Storm King dip tanks. These are safe for all kinds of parts including cast iron, aluminum and brass. Storm King washers are industrial strength and built to last. The two top models employ Storm King's exclusive water-driven turntables that substantially reduce maintenance and downtime. They are efficient and easy to operate, and use highly concentrated, biodegradable detergents, making these environmentally friendly.
The dip tanks combine a caustic solution, heat, and air agitation to quickly clean parts and equipment. Storm King's dip tank is the only insulated dip tank on the market. With a minimum of moving parts, work is done efficiently with little down-time. Both electric and natural gas models are available, and Water Blast Manufacturing can build dip tanks to suit any need.
Water Blast Manufacturing has been the factory authorized Hotsy dealer for decades in British Columbia, Alberta and North Dakota, offering sales and service on all types of cleaning equipment and water treatment systems. Now it is expanding into Saskatchewan where a branch is already operating in Regina. The company's eleventh branch will open soon in Regina, and a twelfth will open in Saskatoon later this year.
Along with these twelve convenient sales and service locations, Water Blast has eighteen mobile service trucks on the road manned by factory-trained technicians who are ready and able to do on-site cleaning system servicing and repair. Whether you need scheduled maintenance, system installations or engineering services, Hotsy Waster Blast has you covered for all your pressure washer needs across Canada.