Water brooms vs. surface cleaners: what's best?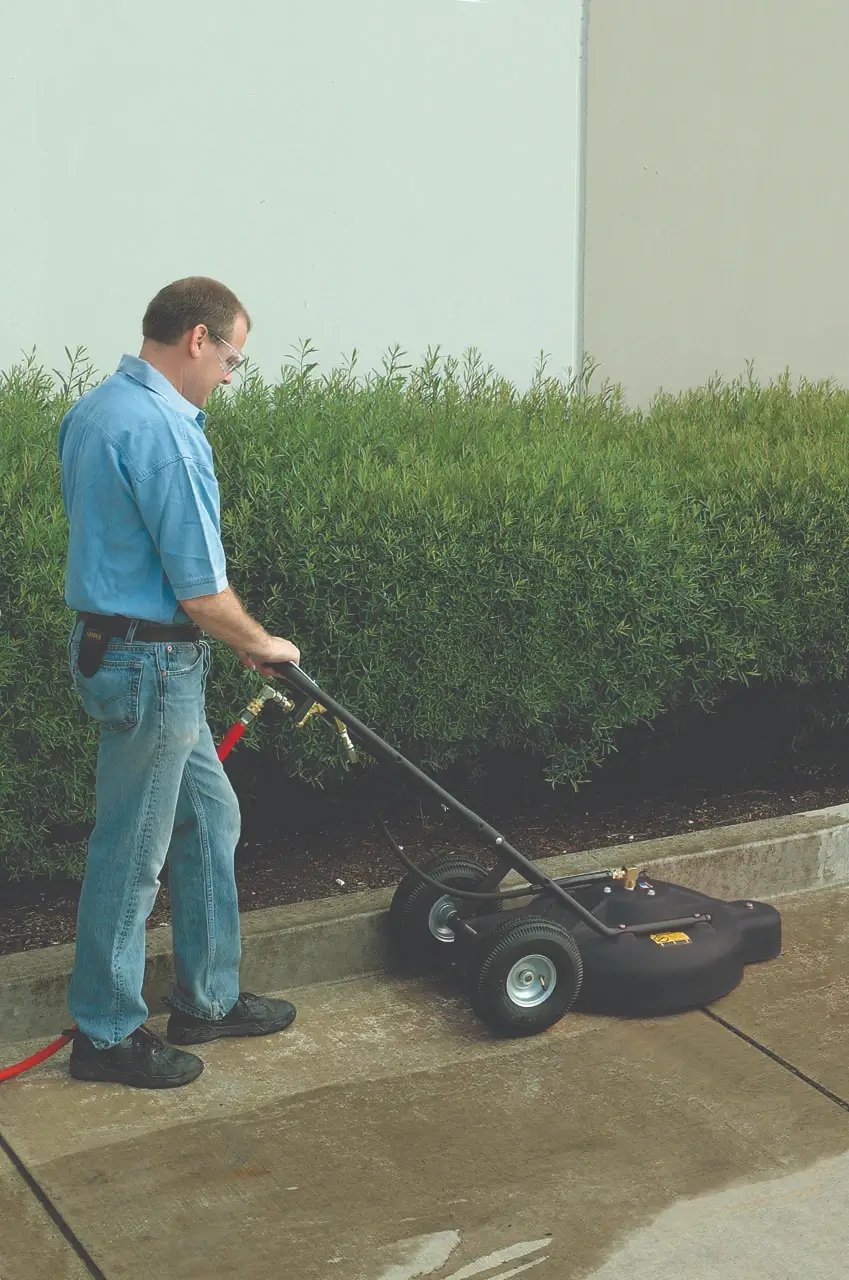 Both water brooms and surface cleaners are efficient, time-saving pressure washer attachments that can be used for various tasks. However, depending on what type of operation you run, you may want to choose one over the other. Here's a quick guide to help you choose the right tool for the job.
Water broom
Water brooms are designed with multiple nozzles to provide a steady stream of high-pressure water to blast away grime. Some models also have a long, cylindrical brush that spins around to sweep away dirt and debris.
Water brooms come in different sizes and lengths and have adjustable wheels to help control the pressure and spread of the spray tips. Water brooms use less water than traditional pressure washers, making them a more environmentally friendly option.
Water brooms are excellent at cleaning various surfaces, including paved walkways and boat decks. Because of their shape and size, they're also helpful in cleaning the undercarriage of vehicles. Hotsy Water Blast carries a high-quality water broom with casters that swivel 360 degrees.
Surface cleaner
A surface cleaner consists of a flat disc set on swivel castors. The underside has a rotating nozzle that provides a powerful but even spread of pressurized water, allowing you to clean large surfaces quickly. Most surface cleaners resemble floor sweepers or lawnmowers. You can "mow" a straight path rather than sweep back and forth like washing with a traditional pressure washer.
Surface cleaners are great for cleaning large areas like garage and warehouse floors. When paired with the proper pressure washer detergents, surface cleaners are also effective at sanitizing commercial food preparation areas. Hotsy carries a variety of flat surface cleaners for various applications that allow you to clean 400 square feet of flat surface in about ten minutes.
A surface cleaner is the best option if you're looking for an easy way to clean large surfaces. On the other hand, a water broom is a more cost-effective choice if you want an efficient way to clean smaller areas.
Wide selection for pressure washer attachments
No matter your business's cleaning needs, Hotsy Water Blast has a pressure washer solution that works for you. We offer pressure washer rental, sales and repair, plus our extensive selection of parts and accessories, including telescoping wands, hose reels and nozzles, will make any cleaning job a breeze. We have seven locations in Western Canada and two in North Dakota. Contact us today for more information or to request a free quote.