Accessory Spotlight: Hoses and Reels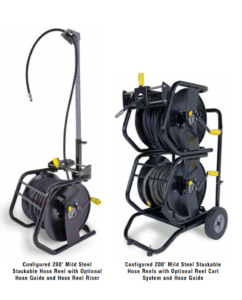 With a hoses and reels system, users can wash surfaces at distances of up to 300 feet from their pressure washer unit. Hotsy hoses and reels, however, are truly exceptional. Here's what you should know.
About Hotsy hoses
Hotsy hoses come in a range of sizes and can offer up to 6000 psi of pressure as well extremely high and low water temperatures. They're also a higher-quality product than the standard pressure washer hose. Notably, their Tuff-Skin™ material is seven times more abrasion resistant and 20% more flexible than other types of pressure hoses.
About Hotsy reels
A pressure washer hose should be kept on a reel, as it will help prevent the hose from dragging on the ground and getting dirty, kinked or damaged. Hotsy reels can be mounted to a wall, the floor or the unit itself. They roll up and unspool effortlessly so you can get the job done quickly. Hotsy reels can hold up to 300 feet of hose and come in two configurations: a 360-degree pivot reel and a fixed-base reel.
Applications for pressure washer hoses and reels
There are a number of contexts in which these accessories come in handy. Here are a few of them:
If you have a wash bay or another stationary configuration, then a hose and reel system is a must, as it allows you to get all the way around the vehicle you're cleaning.
Wash bays can be further customized with trolleys and booms that allow you to easily manoeuvre the hose over and around the vehicle.
For vehicle-mounted units
Hoses and reels are a must-have for cleaning systems mounted on trucks, trailers or skids. Vehicles can't travel everywhere, so long hoses are needed to perform most cleaning tasks.
Even if you have a mobile pressure washer, hoses and reels come in handy if you clean large areas. After all, constantly having to move your unit while cleaning is far from efficient.
Similarly, a hose and reel system is practical if you clean large vehicles or machinery such as semi-trucks or farm equipment. It allows you to navigate around them without having to move your unit.
For use with other Hotsy accessories
A number of labour-saving Hotsy accessories are designed to be used with a hose and reel system. This includes Hotsy's flat surface cleaners, the Hotsy Water Broom and the Hotsy Undercarriage Cleaner, all of which attach to the pressure washer unit with a hose.
Need a Hotsy pressure washer hose and reel system?
Turn to Hotsy Water Blast if you require a hose and reel system or any other Hotsy pressure washer accessories. Contact us today to learn more about these products.